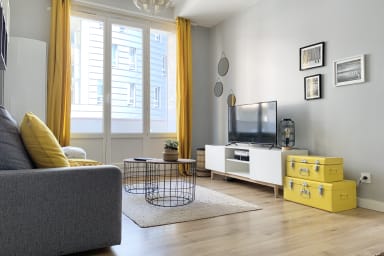 Located in the heart of Grenoble, Apartment T3 near a beautiful park❤️.
⭐ Discover our charming two bedrooms apartment of 60m² located Rue Marceau in Grenoble. 🏔
---
✓ Your accommodation :
🏢 This large flat on the 2nd floor with lift consists of :
- a large living room,
- a fully equipped open kitchen,
- two beautiful rooms,
- a bathroom with Italian shower / basin,
- separate WC.
The dining area has a large table and chairs. You also have access to a large and wide balcony which runs alongside the flat. You can access it from the bedrooms (with table and chairs).
🛌 The flat has 3 sleeping areas: 2 bedrooms with queen-size double beds and a convertible corner sofa bed in the living room.
⭐ Travel in complete comfort thanks to the facilities in the flat, such as a 16/9 TV, free wifi connection (fibre optics), kitchen equipment (coffee machine, kettle, dishwasher, microwave, grill, fridge, freezer, complete housewife, etc.), plenty of storage space throughout the flat, fans in each room, bed linen and towels for 6 people on arrival.
🔒 Following your reservation: In order to welcome you in a really nice place and to keep our apartment as beautiful as they are, a deposit on your credit card will be requested via a trusted partner "Swikly". After your booking confirmation, you will get an email from "Swikly" asking you to verify the validity of your credit card. This verification will assure us an amount in case something happens in the flat. Nothing will be blocked or taken from your account. Please note that without this deposit, access to the accommodation will not be sent to you, and your booking won't be refund. Nb: This deposit is also accepted by Airbnb and Booking.com on their website.
---
*✓ Its location : *
📍 Located in the recently renovated and very popular eco-district of the Caserne de Bonne in the centre of Grenoble, you are near to shops, restaurants, a beautiful park, etc... A real haven of peace in the heart of the city!
🚌 Getting around :

A 2 min walk away, you will find the "Foch-Ferrié" tramway station, line C.
🚗 Parking is possible around the building (paying during the day except Sundays) as well as in the surrounding car parks.
---
*✓ Our favourites 💗 *
Its beautiful decoration with its yellow tips 🌻
Its space! Two beautiful rooms are at your disposal, as well as a large balcony.
Fully equipped! Settle in and don't worry about a thing!
---
*✓ Please note before booking : *
💁♀️ We are discreet and you have independent access to the accommodation. We are in Grenoble and remain available for all your requests!
🧹 The cleaning charges also include bed and bathroom linen, so leave with peace of mind! Due to health and safety instructions, sheets and towels will be left on your bed.
🤝 This is solidarity housing! All cleaning costs are paid in full to two associations (E.S.A.T. disabled workers and solidarity cleaning).
+ More
Less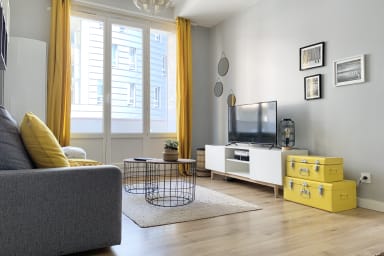 The Space
Accommodates: 6
Bedrooms: 2
Bathrooms: 1
Property Type: Apartment
Check-in: 17:00
Check-out: 10:00
---
Amenities
Babysitter recommendation

Cleaning and disinfection

Contactless check-in and check-out

Laptop Friendly Workspace

Long Term Rentals Available

Staff wear protective equipment
Reviews
Opinion

Very clean environment, apartment in the city center. Very nice inside and with all the necessary things.

March 2022

---

Cátia M. ()

Great experience

Everything went well! Very clean and looks exactly the same as the photos in the website. We enjoyed our stay! Thank you

March 2022

---

Sandrine p.

Bien!!!

Quartier accessible Appartement agréable

February 2022

---

Angela (. ()

Excellent apartment!

Thoroughly enjoyed our stay here … very centrally located in Grenoble, quick and easy check-in, and we'll equipped!

December 2021

---

Mon sejour

Seleument que le jour on devait partir il n y a plus d eau dans la douche .c est ça seleument qui ne m a pas plus. A part cela rien à signaler.

August 2020

---

Said B.

Négligence de l'hygiène ..Inadmissible.

Négligence de l'hygiène surtout en ce moment où il faut être très vigilant avec le covid 19. Déçu. Sinon bonne situation géographique.

June 2020

---

Bon séjour mais !

L'appartement est très bien, mais l'état du canapé est plus que moyen et il y a un effort est à faire sur la propreté des murs qui sont pleins de projections de ????

March 2020

---

Xavier B.

Bon appartement

Bon appartement dans Grenoble

February 2020

---

Karina T.

muy bien

estoy muy contenta uniko q no funciona interfon...

December 2019

---

Karina T.

мой отпуск

мы с сестрой приехали празновать праздник огня в лионе но решили остановится в гренобле,квартира понравилась,но есть небольшие ньюанцы,не работает домофон чтоб заказать питцу нужно идти в низ и ждать,нет доски для кухни чтоб резать салат,нет вазы для цветов,нет большой кастрюли для варки супа,нет щётки чтоб мыть пол,,а так в основном светлая чистая квартира соответствует фото .надеюсь вернутся ещё.

December 2019

---

Louise G.

Séjour à l'appartement jaune

Super séjour, appartement propre et conforme à la description. Seul hic sur l'insuffisance de papier toilette et de capsule de café comptable avec la machine à café. Je conseillerais de mettre une machine à filtre pour que le café soit moins cher et qu'il y en ait en permanence. Merci

November 2019

---

Véronique L.

Déçu

Logement parfait pour 4 personnes pour 6 non (canapé très inconfortable) ; nous en avons fait les frais. Pour 6 il faudrait investir dans un vrai canapé convertible. La marque de la cafetière n'était plus la même à notre arrivée, du coup capsules achetées en nombre pour rien et rachat indispensable. Il aurait suffit d'un sms ou d'un mail pour nous avertir afin que nous prenions nos dispositions en ce sens. Au niveau vaisselle nous n'avons pris que les petits déjeuners mais pour 6 il faudrait au moins 6 mugs (4 actuellement), il y'a cependant des bols. Au niveau des clés, un jeu ne suffit pas pour 6, il n'y a même pas de badge pour la grande porte d'entrée ni d'indication pour appuyer sur la liste déroulante. Cela nous est arrivé et nous avons du appeler sur un portable pour que l'on nous ouvre ! à 6 nous n'avons pas tous le même rythme et du coup un seul jeu de clé n'est pas suffisant. Le point le plus négatif étant le ménage ; dans la location nous payons une somme assez conséquente pour celui-ci et là carton rouge, plein de poussière partout jusque dans les placards, lorsque l'on a bougé le canapé pour le transformer en lit là c'était le pompon ! j'ai d'ailleurs envoyé des photos. Cette somme devrait même nous être remboursée... Pour terminer sur une note plus gaie, le point très positif est l'emplacement du logement à deux pas du Tram Ligne C, d'un Intermarché pour les courses et d'une boulangerie. A pied comptez 1/4 d'heure à 20 minutes du centre ville à pied. Le message d'information reçu avec les indications pour récupérer les clés étaient claires et précises, le fait de pouvoir prendre possession de l'appartement un peu plus tôt que 18h le jour d'arrivée ainsi que de repousser le départ à 11h30 au lieu de 10h le jour du départ sont également des points positifs. Nous espérons que ces informations vous seront précieuses afin d'améliorer la qualité d'accueil des prochains locataires. Bonne continuation à vous.

November 2019

---

Pierre-Gilles G.

Avis appartement

Très bon séjour , réponses par mail et sms très rapides et sympathiques. Le seul bémol à apporter serait que la literie n'est pas queen size ( 1,80 cm de large) mais 160 et 140 cm. L'appartement est très propre , avec du bon matériel, bien équipé , seuls quelques murs mériteraient un léger nettoyage, le cadre est gai et lumineux, la télé de grande taille. L'ensemble correspondait tout à fait aux photos et à nos attentes.

October 2019

---